celexon CLR HomeCinema Plus UST High Contrast Electric Floor Screen 100" – Black
Prices incl. VAT plus shipping costs
Free of shipping costs!
Lagernd. Sofort versandfertig.
Delivery time: 3-7 working days
The new version of the celexon floor scissor high-contrast screen for ultra-short thjrow projection is here. We have kept the wishes and feedback of our customers close in mind with the product development and have noticeably improved the screen both in its technical, internal and external...
more
Product information "celexon CLR HomeCinema Plus UST High Contrast Electric Floor Screen 100" – Black"
The new version of the celexon floor scissor high-contrast screen for ultra-short thjrow projection is here.
We have kept the wishes and feedback of our customers close in mind with the product development and have noticeably improved the screen both in its technical, internal and external values.
The new celexon UST High Contrast Floor Scissor Screen - HomeCinema Plus is now much better prepared for integration into or attachment to furniture.
In combination with a modern ultra-short distance projector, it becomes a true laser TV and thus an alternative to classic TV sets, which can visibly disrupt your interior design when not in use.
When not in use, the screen disappears almost completely from view, as it does not need to be mounted on the wall or ceiling but disappears into or behind your lowboard. This is how you realise the dream of a 100-120" TV on wheels that is only visible when in use.
Innovative screen design and easy integration for any room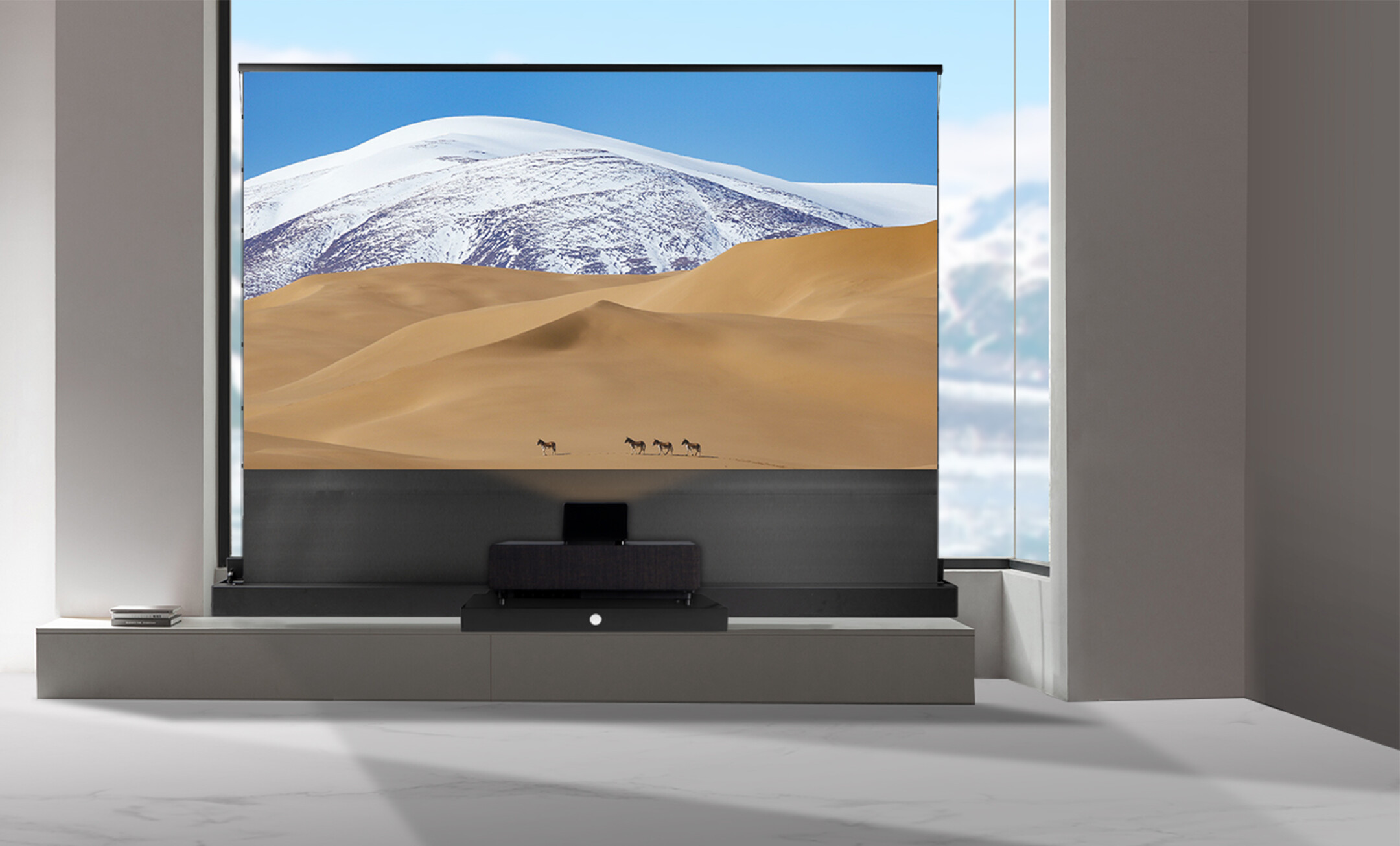 A great home cinema experience in the living room thanks to a clever design
Ever larger pictures are difficult to combine with classic screens and TVs with high-quality living room design. Visually, a TV >75" often looks unsightly when switched off, disturbs the interior design and takes up wall space that could be better designed or used for other furnishings.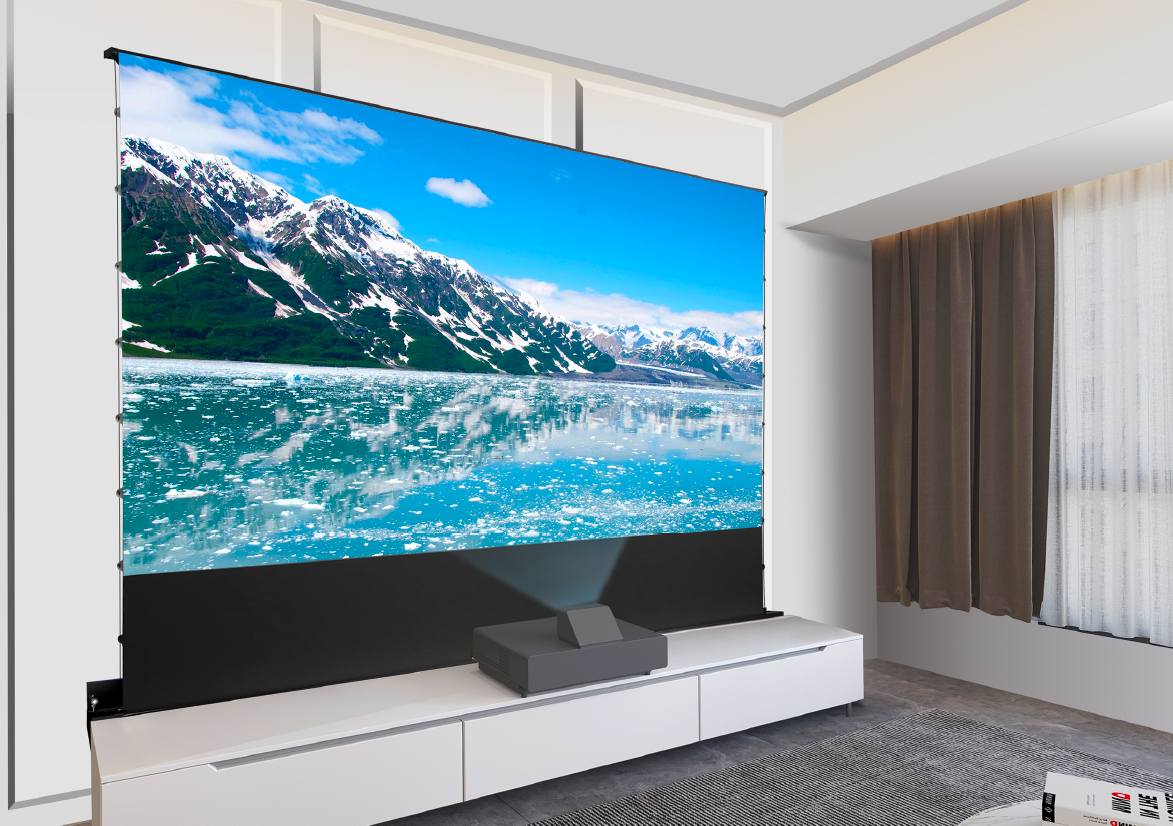 With our new CLR floor scissor screen and a UST projector, you get around this problem in a truly impressive way. The housing design with clean lines is not only easier to install in or on furniture than the previous version, it also cuts a very good figure in minimalist room design.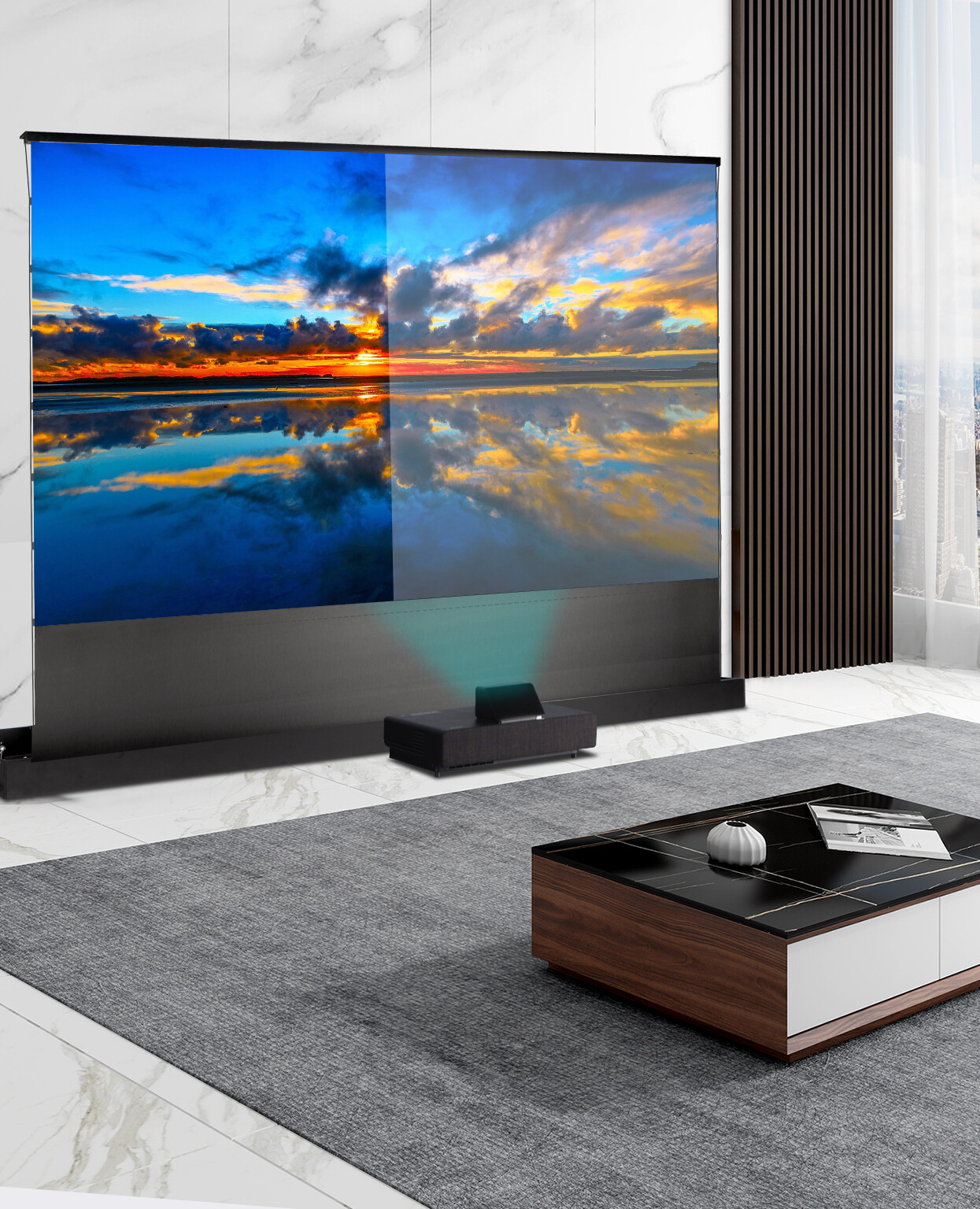 smart ideas for the bigger picture
Celexon's new floor scissor screen offers you smart features that represent significant added value visually and technically compared to similar products from other suppliers.
One highlight is the newly developed electrical housing flap, driven by a separate motor, which safely protects the screen from environmental influences when not in use, leaves an inconspicuous look in the room or furniture and thus improves your laser TV experience from the very first second when it is extended.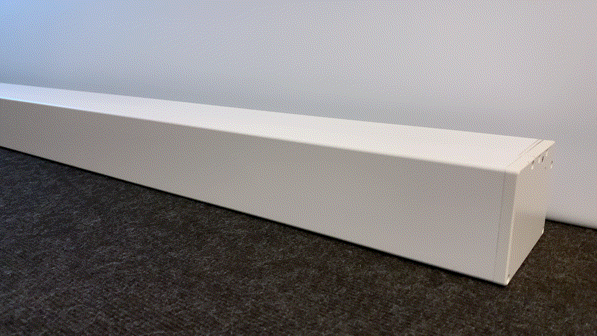 For integration into a lowboard, our new floor scissors screen offers invisible carrying handles integrated into the housing, so that you can easily and safely insert the screen from above. It can be removed just as easily if, for example, you need to install new or additional AV components or lay new cables. Our improved scissor joint mechanism is as smart as it is useful. Highly stable, aluminium alloy die-cast joints ensure an extremely long service life and many thousands of up/down movement cycles. With celexon's floor scissor screens of the HomeCinema Plus series you acquire a product with which you will experience many years of great cinema.
celexon´s black grid CLR Technology
In addition to all the external and mechanical improvements, we have of course dedicated development to our CLR High Contrast Cloth. A newly developed microscopic light grid structure, manufactured using new production processes, produces up to 20% brighter images, delivers visibly more "punch" and colour contrast, making it even more suitable than ever for a true TV replacement in your living room.
In doing so, we have significantly increased the number of directionally reflective blades on the fabric, improved the coating of the absorbing and ambient light deflecting upper areas of the blades and thus produce outstanding projection images in almost all lighting conditions. Let yourself be inspired by celexon's CLR "micron-scale black grid" surfaces!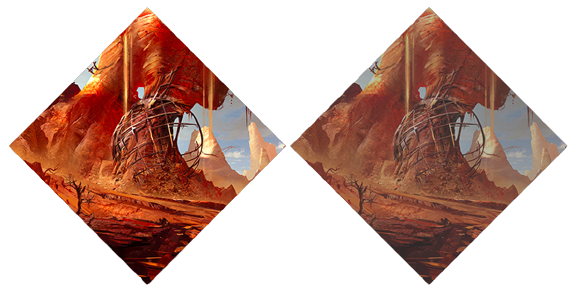 celexon micron scale black grid CLR vs. CLR fabric from competitor
Modern ultra-short distance projection also enjoys maximum in-picture contrast and the lowest possible black level. For the "OLED" effect, a contrast cloth such as that of the celexon CLR HomeCinema Plus series is indispensable because it clearly optimises the black level. In addition, disturbing stray and residual light is minimised; ceiling light in particular can be reduced by up to 90%.
Celexon's black grid CLR high contrast screen fabric significantly improves the UST (Ultra Short Throw) projector image: The unique multi-layer screen fabric design visibly increases the black level and effectively minimises the "grey haze" of ambient light in the room. Ambient light is actively deflected or absorbed away from the surface, resulting in a high-contrast image even under residual light conditions (lamps or daylight). You will be thrilled and enjoy unprecedented picture size as a TV replacement, which also saves costs, e.g. for a separate TV.
Our new "micron scale black grid" UST contrast cloth is optimally suited for all current (Full HD & 4K) and future projector resolutions up to 8K due to its special cloth structure. The unrestricted viewing angle stability of up to 170 degrees should be emphasised, so that all viewers can enjoy true big-screen TV on the sofa without restriction.
The choice is yours: available in black or white!

With the new series, we continue to offer, in addition to the proven black, perfect for dedicated home cinema rooms, a discreet white for the living room and meeting rooms at home.
Our tried-and-tested cable tensioning system provides the essential flatness for ultra-short-distance projection without annoying dog-ears at the edges. For even better tension over the entire surface, we have cut the lateral tension tabs concave. Excellent flatness will give you undisturbed short-distance projection.
As if that were not enough, we have intensively reworked the fabric coating and achieved a unique softness of the fabric with new material mixtures of the backing material. This means that horizontal stripes and marks from the winding shaft or the adhesion between the leader and the screen fabric do not stand a chance.
celexon installation tips: For ease of use, our experts recommend a trigger connection. The necessary USB trigger cable is included in the scope of delivery and can be connected to the USB-capable ultra-short throw projector so that the screen automatically retracts when the projector is started and retracts when the projector is switched off.
The enclosed mounting brackets can be tilted continuously +/- 1.5°, use this feature to align your screen perfectly with the projector, thus eliminating the image-deteriorating digital keystone correction via your projector for pixel-precise images in full untouched resolution.
Features:
Our celexon UST high contrast floor scissor screen - HomeCinema Plus is supplied with a wide range of accessories, so it can be controlled in many ways "out of the box":
Conveniently from a distance using the enclosed infrared remote control
Conveniently from a distance using the enclosed radio remote control
automated via USB trigger you control your screen simply and conveniently via the trigger output and switching status of your projector - full automation
manual control via a button on the housing
all enclosed cables in the same colour as the housing
Mounting:
Our electric floor scissor screen installs safely, easily and quickly.
The choice is yours: simply place the screen on the floor, on or at the back of your sideboard or on the wall, connect the power and the screen is ready to use. For an even more inconspicuous installation, you can optimally recess the straight-lined screen housing into a piece of furniture of your choice - the side control units and power connection are designed to take up little space in the furniture and not protrude. The integrated carrying handles make handling much easier.
KEY INFORMATION:
Electric floor shears screen with electric flap opening mechanism
Case colour: black
celexon CLR / Laser-TV "black grid" ultra-short projection screen fabric, lenticular
Standard projection distance at bottom 350 mm (digitally adjustable via FB)
Screen size 100" in 16:9 format
Black back
Concave cut tension rope system especially effective against "dog-ears"
Stable and durable scissor joint system, tested for several thousand cycles
Integrated control unit with a variety of control options
Incl. RF and IR remote control
Incl. trigger cable and trigger unit built in, +5 to +12V DC, via 3.5 mm jack to USB
Quiet, high-torque tubular motor: long-lasting and smooth-running
Separate motor for electric flap opening mechanism
Power output on left side viewed from front
Housing dimensions: 2451 x 145 x 98 mm (WxDxH)
220V, 50HZ
SCOPE OF DELIVERY:
1x celexon UST high contrast floor scissors screen - HomeCinema Plus
1x Power cable approx 1.5m
1x Radio (RF) remote control
1x Infrared (IR) remote control
1x Trigger cable jack to USB in white
1x Additional IR receiver eye, can be flexibly positioned if required in furniture installation
1x Mounting material, cleaning brush for cloth surface
2x Mounting brackets +/-1.5° inclinable
1x Adjustment tool for mounting brackets
1x Manual & screen usage instructions
Related links to "celexon CLR HomeCinema Plus UST High Contrast Electric Floor Screen 100" – Black"
Technical data
| | |
| --- | --- |
| Diagonale: | 100 Zoll |
| Produkttyp: | Leinwand |
| Gainfactor: | 0.5 |
| Format: | 16:9 |
| Gainfactor: | 0.5 |
| Hersteller SKU: | 1000025597 |
| Garantielaufzeit: | 24 Monate |
| Artikelnummer: | 1000025597 |
| Produktserie: | celexon Hochkontrast Bodenscheren - HomeCinema Plus |
| Halterungsgerätetyp: | Boden / Standfuss, Wand |
| Marke: | celexon |
| Blickwinkel horizontal: | 170 Grad |
| Leinwand Typ: | Hochkontrast, Bodenscheren, Motor, Tension |
| Produktgewicht: | 24 kg |
| Produktbreite: | 245,1 cm |
| Produkthöhe: | 10,9 cm |
| Produkttiefe: | 15,2 cm |
| Garantietyp: | Bringin service |
| schwarzer Rand unten: | 35 cm |
| Zustand: | New |
| EAN: | 4260094745058 |
| Leinwandtuch: | CLR high contrast PET |
| sichtbare Fläche Breite: | 221.4 cm |
| Artikelnummer: | 1000025597 |
| Abmessungen: | 15,2 x 245,1 x 10,9 cm |
| Farbe: | schwarz |
| Projektionsart: | Front projection |
| sichtbare Fläche Höhe: | 124.5 cm |
| Gehäuse-Abmessungen: | 14,5 x 245,1 x 9,8 cm |